DISNEYLAND AND DISNEY WORLD
Disneyland and Walt Disney World
Constuction of Disneyland and Walt Disney World
Up until the 1940s, the American amusment park was limited to merry-go-rounds, ferris wheels and carnival games. All that changed when Walt Disney envisioned a new amusement park called a Theme Park. Disney's innovations re-entergized amusement parks in this county and creating an entirely new approach to the real estate development and commercial construction of theme parks and the areas surrounding those attractions.
Disneyland - A New Kind of Amusement Park
Later in life, Walt Disney told inquirers that he first had the idea for a new kind of amusement park when he took his young daughters out for the weekend and found that, "…existing kids' parks and fairs were often dirty, sleazy, money-grubbing places."
In spite of the fact he had never developed real estate or managed a large-scale construction project, Disney nourished his notions of a new kind of amusement park throughout the late 1940s and early 1950s. His idea for displaying Disney characters in a fantasy setting was a bold departure from present-day amusement parks and carnivals that offered rides, games, and inexpensive food. Instead Disneyland was conceived as an extension of the Disney brand, and would be the first "theme park" built in the United States.
The people at Disney Studios, even his brother Roy, were less than enthusiastic about Walt's plan. Walt, confident of his own vision, sidestepped the studio and began to gather funds by borrowing on his life insurance and selling vacation property in southern California. He assembled a staff of designers, planners and artists and formed WED Enterprises - the letters were his initials - as a personal corporation to house them. The WED group began a long process of creative brainstorming. Its members conceptualized, designed and reworked Walt's broad ideas. They visited other amusement attractions around the country to gather data and impressions and flesh out development plans, and with the help of commercial contractors created a rough construction timetable.
By 1953 major large hurdles - obtaining financing and securing a location - still blocked the launching of the park's construction. In July of that year, Walt recognized his need to obtain guidance from commercial real estate development experts and solicited a pair of marketing studies from the Stanford Research Institute: one would examine the economic prospects of developing Disneyland, and the other would seek the ideal location for construction companies to build the park.
After determining the facility could be profitable, the Stanford group closely examined a host of factors - demographic statistics, urban growth trends, population concentrations, traffic patterns, freeway construction, availability of experienced commercial contractors, weather conditions - before recommending a site in Anaheim, a rapidly growing town just southeast of Los Angeles.
Disney had struggled to find additional financing; as he later recalled, he was told by bankers that "the outdoor amusement business was a cultural anachronism that had already declined into senility." A few months later, the financial breakthrough came with a long-term agreement with ABC which brought the television network in as a major investor. (ABC agreed to carry Disney television programming, marking Mickey Mouse's first network appearance and the start of a tremendously profitable partnership for both companies. ABC also agreed to help publicize Disneyland in return for an ownership stake in the property.)
Construction of Disneyland Begins
With financing in place and a location secured, the construction companies began in the summer of 1953. Commercial contractors and construction companies fell under the overall leadership of Joe Fowler, an engineer and retired navy admiral who became construction supervisor, and later park manager for ten years.
Disneyland was designed in a wheel-shaped configuration. The idea was to provide a fun entrance area with a long walkway where visitors would wander through, led by a grand visual attraction, to the park's center. From there, visitors could branch off to the rest of the park on paths that radiated outward like spokes on a wheel.
This became the design for Disneyland. Visitors entered the park through Mainstreet U.S.A. and made their way to the center hub of the wheel, where they found the park's majestic centerpiece, Sleeping Beauty's Castle and Fantasyland. Winding "spokes" led from the castle through the rest of the park, guiding visitors to other different themed "lands", including Adventureland, Frontierland and Tomorrowland. This wheel design layout with an iconic centerpiece has become the standard approach for designing theme parks and has been adopted by the majority of theme parks constructed since that time.
Construction for Disneyland began on July 21, 1954, just 12 months before the park was scheduled to open. Construction companies worked frantically to meet the tight schedule and completed the project on time. Disneyland was formally opened a year later, on July 18, 1955, to glowing reviews. Unlike other amusement parks of the day, Disneyland was developed and constructed to be instantly recognizable as an extension of the Disney brand and the Disney philosophy. The rides used an array of Disney motifs, costumed Disney characters roamed the park, and Sleeping Beauty Castle, the looming attraction at the heart of the park, was instantly recognizable to millions of people since it was seen every Sunday night on ABC television. Disneyland became, in a sense, the capstone of Walt Disney's career.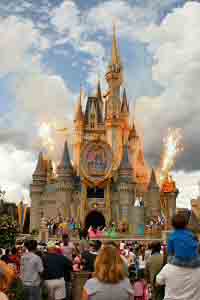 The capstone of his career also quickly became the cornerstone of an empire. In its first six months, one million people visited the Disneyland; in its first full year, three million people passed through its gates. The park quickly generated capital to finance a vast expansion, and in subsequent years, each time the park expanded its capacity, revenues increased more than proportionately to the added capital. In spite of his lack of real estate development experience, Disney had created park plans that allowed for expansion and resulting construction that would not interfere with ongoing park operations.
Lessons Learned and Incorporated into the Planning and Construction of Disney World
One thing that Walt Disney learned from the development of Disneyland was the need for space - lots of it. He saw that his parks would become a destination for vacationers, and he wanted the control over the surrounding area for restaurants and hotels that would further the Disney brand. Unfortunately, Disney did not own the the land around Disneyland, and his park soon became surrounded by low-end motels and other business that detracted from the fantasy-like image he wanted to present. Disney also had more visions for his theme park to appeal to visitors of all ages and to incorporate a wider variety of subjects than just his cartoon characters. He quickly recognized that the 160 acres for Disneyland would not be nearly enough to meet his vision.
In 1963, Disney set out to find a site for a new Disney theme park that would give him the room he needed to create multiple theme parks, hotels, restaurants and more. His team (called Imagineers) scoured the country to find the right place to host a theme park on a much grander scale than Disneyland. His Imagineers chose the undeveloped lands around Orlando as the location for his new park.
Disney knew the importance of getting as much land as possible and was well aware of how prices would escalate if people found out what he was doing. He formed fictitious corporations with names like Tomahawk Properties, Latin American Development and Retlaw Enterprises (Retlaw is Walter spelled backwards) to acquire the land discreetly. By the time Disney announced the project on November 15, 1965, the company had acquired 27,443 acres (43 square miles) for $5 million. (This has expanded over the years to more than 30,000 acres, or almost 47 square miles). As Disney predicted, within days of this announcement land values for property surrounding the Disney site sky-rocketed from $180 per acre to as much as $80,000 per acre.
Construction Companies Break Ground on a New Kingdom
Tragically, Walt Disney passed away on December 15, 1966, before construction companies could begin building his Disney World. Roy Disney stepped into Walt's place and led the construction of the first theme park in Disney World, the Magic Kingdom, as well as on two hotels and a campground. Construction began in April, 1969.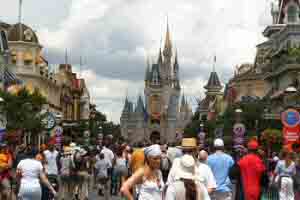 Given that central Florida is primarily a wetlands region, construction companies faced a variety of challenges with relocating water while not affecting the local environment. Construction crews built more than 50 miles of levees and canals around the property to maintain levels and quality of the local fresh water while draining areas where construction would take place. This control system, which functions automatically based on water levels and without electricity, helps to minimize flooding without removing water from the area. Even bodies of water that would remain on the site needed to be cleaned and made safer for recreational use. Bay Lake was drained of its water and cleaned of muck. Construction workers removed more than seven million cubic yards of dirt from an adjacent area to create a man-made lagoon, named Seven Seas Lagoon. Sand from beneath the removed muck was used to create beaches around the lagoon. Once Bay Lake and the Seven Seas Lagoon had been filled with water, the surrounding areas served as the setting for one of the hotels, the Polynesian Village Resort.
The dirt removed for the creation of the lagoon became the earthen foundation for the Magic Kingdom theme park. Visitors to the Magic Kingdom rarely realize that they are actually on the second floor of the park. The construction company in charge of this phase of the project created a nine-acre ground-level floor which is comprised of corridors and massive rooms. These corridors are called "utilidors" as they provide housing and access to the park's utility systems and the incredible network center that controls virtually every automated aspect of the park, right down to the gift shops' cash registers. The visible part of the Magic Kingdom is built on top of that ground floor, hiding it from view. Cinderella's Castle at the center of the Magic Kingdom is further elevated by several more feet to make it visible from miles around.
The Magic Kingdom was designed in the same wheel-shaped configuration first employed at Disneyland; at the center hub of the wheel stood Cinderella's Castle. Winding "spokes" meandered from the castle through the rest of the park, leading visitors to six different themed "lands", including: Main Street, USA; Adventureland; Frontierland; Liberty Square; Fantasyland; and Tomorrowland.
Cinderella's Castle is a masterpiece of design and construction. Standing 189 feet tall, the Castle is made of fiberglass veneer crafted around a 600-ton steel framework. It features ten spires; portions of the castle are finished to look like solid granite and other parts look like brick. The facade bricks nearer the top of the Castle are actually smaller than the ones closer to the ground. This technique of designing higher features to be disproportionately small makes the Castle look taller than it actually is; several buildings throughout the Magic Kingdom were constructed with smaller windows, balconies and doors on their second and third floors to employ this same design technique. Many believe the Castle was designed to be disassembled in the event of a hurricane. While this is not the case, Cinderella's Castle was built to withstand hurricane force winds. One of the Castle's towers includes an unfinished apartment. This apartment was to be used by Walt Disney and his family when they visited the park. Because Disney died before the building was constructed, the room was never used for this purpose. It has been left largely unused, although for some time it served as home for a Disney call center.
By the time the Magic Kingdom opened on October 1, 1971, more than 9,000 construction workers had labored for 18 months to build the park, which cost approximately $400 million to create.
Building the City of the Future
In 1975, Disney's Imagineers entered a new phase of Disney World's development with the planning of two new concepts that Walt Disney had envisioned more than a decade before. The first was a World Showcase, capturing the cultures of different countries around the world. The second was an amazing and daring vision of what the city of the future would be. Initially, Imagineers planned these two attractions as separate parks, or as attractions within Magic Kingdom. They finally chose to put the two concepts together into a single new theme park called EPCOT, short for Experimental Prototype Community Of Tomorrow.
In 1979 Disney's Imagineers began construction on EPCOT. EPCOT's skyline was to be dominated by one of the most creative buildings ever constructed, known as Spaceship Earth. Science fiction writer Ray Bradbury assisted on the design of Spaceship Earth and Disney served as its design firm with its WED Enterprises Group. One of the most recognizable buildings in America, Spaceship Earth was the world's first geodesic sphere building. The building, standing 18 feet above the ground on massive steel pylons, is 180 feet tall and weighs more than 15 million pounds. So massive is the building that construction crews drove its pylon legs 120 - 180 feet into the ground to provide sufficient stability. The sphere's external surface is covered by an intricate faceting of 11,324 alucobond triangles. The building surface is covered with gutters between the triangle facets; rainwater is captured in these gutters and channeled to a nearby lagoon to eliminate run-off from the building and conserve water resources. Inside, a steel skeleton forms the building's shape, an interior sphere skin provides the interior "walls" for the ride and attractions. A second sphere, the exterior skin, is mounted to the skeleton two feet away from the interior skin with smaller framework pieces.
EPCOT proved to be a much more challenging project than Magic Kingdom. With advancements in technology, designers and builders were able to incorporate five times more special effects into EPCOT than were built into Magic Kingdom. More than 10,000 construction workers labored for 26 months to create the 300-acre, $1.4 billion park in time for the grand opening on October 1, 1982; at the time, EPCOT was the largest commercial construction project on earth.
Construction Continues Through the 1980s and 1990s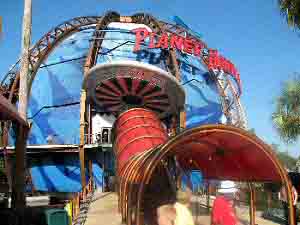 Since EPCOT opened its gates in 1982, Disney World has continued to expand with new construction of theme parks, hotels, shopping areas and more.
In 1989, construction was completed on Disney-MGM Studios, a combination theme park / working movie studio. Using the template established with the Magic Kingdom, Disney-MGM Studios was designed with the wheel layout. Initially, a replica of Hollywood's Chinese Theater was the icon at the park's center hub. Construction crews worked from the original Mann's Chinese Theater plans and recreated the lobby precisely, then included stars on a walk of fame around the building for added effect. In 2001 Disney added a 122-foot tall Mickey's Sorcerer's Hat as the new centerpiece for the park. Constructed of fiberglass with a concrete foundation, the 156-ton hat was designed after the cap worn by Mickey Mouse in the movie Fantasia. Winding paths lead from the park's center hub to five themed areas, including: Hollywood Boulevard, Echo Lake, Streets of America, Mickey Avenue, Animation Courtyard and Sunset Boulevard. To capture the Golden Hollywood theme for the park, construction crews built painstaking replicas of California real estate icons like Sunset Boulevard and Hollywood Hills Amphitheater, as well as more mundane tinseltown scenes like a 50's diner, old fashioned theaters and other symbols of the community. Old time movie studios typically had a water tower and Disney continued this tradition with a 130 tower in the backlot area, complete with 5,000 pound Mickey ears that were lifted in place with a crane during construction.
Throughout the 1980s and 1990s, Disney continued to add more hotels and resorts to the property - no less than 23 different resorts now offer lodging on Disney property that ranges from the most luxurious suites to camping sites.
The expansion of new attractions continued with the debut of Disney World's first water park, Typhoon Lagoon, in 1989. Also that year, an entertainment complex called Pleasure Island debuted. Pleasure Island ultimately became a major section of Downtown Disney, a 120-acre shopping, entertainment and restaurant area outside of the theme parks. In 1992 the Bonnett Creek Golf Courses opened, featuring two courses: Eagle Pines and Osprey Ridge. A second water park, Blizzard Beach, was completed in 1995. In 1996 construction was complete on the Disney World Speedway 200 race track.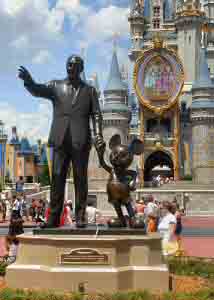 In 1995 Disney broke ground on the fourth of its theme parks at Disney World, Animal Kingdom. This theme park, the largest of all the Disney parks, is dedicated to the conservation of our planet's wildlife. True to form, Animal Kingdom is designed in the wheel configuration. The center of the park, Discovery Island, features the massive Tree of Life as its icon. The Tree of Life stands fourteen stories tall and is built around a refitted oil platform. Paths leave Discovery Island and lead visitors to the other themed areas of the park, which include Oasis, Camp Minnie-Mickey, Africa, Rafiki's Planet Watch, Asia and DinoLand USA.
Construction crews worked on the Animal Kingdom for three years, opening the 500-acre, $800 million park on April 22, 1998.
A Simple Experience Leads to a New Paradigm in the Construction of Amusement Parks
From Walt Disney's unpleasant experience as a father taking his daughters to an amusement park has emerged the multi-billion dollar industry of modern theme parks. Disney's theme parks now dominate tourism on both coasts, as well as in Paris and in Tokyo. Disney's diversification from cartoons and movies into vacation environments now includes a Disney cruise line as well. In fact, Disneyland and Disney World signaled a major shift in amusement and theme park development and construction. Almost every major amusement park in the U.S. today is a descendant of and aspires to the Disney model: a focus on convenience, a superior guest experience, development planning allowing easy and seamless expansion, innovative construction techniques and most importantly a "theme" that gives a park a sense of identity and uniqueness. While Walt Disney is best remembered for creating ageless cartoon characters like Mickey Mouse, Goofy and Donald Duck, his impact on commercial real estate development and the construction of major entertainment venues is just as historically significant for the entertainment AND the construction industries.